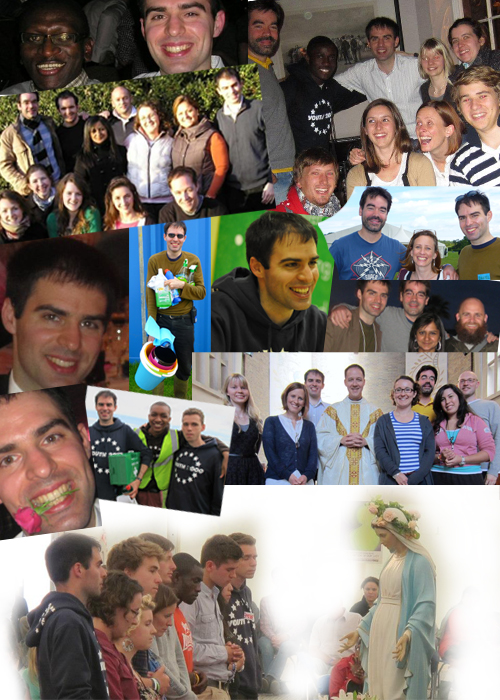 We at St Joseph's were saddened to learn of the death of Daniel Brudney last week. Having been involved in Youth 2000 for 7 years, he was a well-loved member of the team, who instilled in many a love for the Lord and His people. May he rest in peace!
The following is taken from an email from Fiona Mansford of Youth 2000:
Dear Youth 2000 Friends,
It is with sad hearts that we share the news of Daniel Brudney's death on Friday night. He died tragically in a car accident, on his way home from work. Daniel had been involved in Youth 2000 for many years, and became a member of the Leadership Team in 2008.
Daniel was a living witness and example of faith and love in action… particularly at the Walsingham Prayer Festivals, where Doctor Daniel, a Consultant Microbiologist, would be seen often with his sleeves rolled up, a smile on his face, and a mop and bucket in hand, ready to serve wherever needed.
Please join us in thanking God for the great gift of Daniel. He was, and remains to be a gift to Youth 2000, and a faithful and fun-loving friend to many. We will always remember the joy, commitment, and care that God brought us and hundreds of others, through him. He was a passionate and generous man, dedicated to the work of Youth 2000 and to the mission of the Church. At this time your prayers are asked in particular for his parents and extended family.
'We want you to be quite certain about those who have fallen asleep, to make sure that you do not grieve for them, as others do who have no hope. We believe that Jesus died and rose again, and that in the same way God will bring with him those who have fallen asleep in Jesus'. 1 Thes 4:13-14
Eternal rest grant unto him Oh Lord and let perpetual light shine upon him. May his soul and the souls of all the faithful departed, through the Mercy of God, rest in peace. Amen.
Our Lady of Walsingham – pray for us.