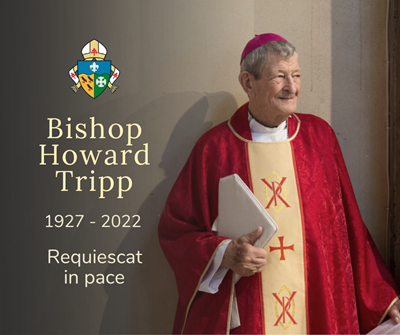 Whilst it is with sadness, it is also in the light of the Lord Jesus, our Life and Resurrection, that I write to inform you of the death of our dear friend and brother, Bishop Howard Tripp, who completed his long and fruitful earthly pilgrimage yesterday, Monday 3rd October.
Bishop Howard was born in Croydon on 3rd July 1927, and attended the John Fisher School in Purley. Following formation at St John's Seminary, Wonersh, Bishop Howard was ordained priest on 31st May 1953 at St Gertrude's Church, Croydon by Archbishop Cowderoy.
Bishop Howard's first appointment was at Blackheath, followed by a curacy at Our Lady Queen of Peace, East Sheen from 1956-1962 before becoming parish priest there from 1965-1971. Aged 38, he was the youngest parish priest in the Southwark Diocese. During his time at East Sheen, Bishop Howard was appointed Diocesan Covenant Organiser (1958) and Assistant Diocesan Financial Secretary (1962). He held both posts until 1968. From 1971-1980, Bishop Howard served as the Director of the Southwark Children's Society.
On 30th January 1980, Bishop Howard was ordained Bishop of the titular see of Neoportus and Auxiliary Bishop of Southwark by Archbishop Michael Bowen, with responsibility for the South-West Pastoral Area. He served in this position until his retirement on 7th January 2004.
In more recent years, Bishop Howard has been cared for graciously by the Little Sisters of the Poor, and was a much- loved member of the community there.
Let us entrust his soul to the intercession of the Mother of the Lord Jesus who is our Mother, too. Let us pray that she will welcome him and introduce him into a heavenly inheritance where he will enjoy for ever the fullness of peace.
With an assurance of my prayers and blessing. Yours sincerely in Christ,
+John
The Most Rev. John Wilson Metropolitan Archbishop of Southwark
FUNERAL DETAILS FOR BISHOP HOWARD TRIPP RIP
Wednesday 2 November
18:00 Reception of the Body, followed by Mass of All Souls' Day
Thursday 3 November
12:30 Solemn Requiem Mass, followed by interment in the Cathedral vault
May he rest in peace and rise in glory.